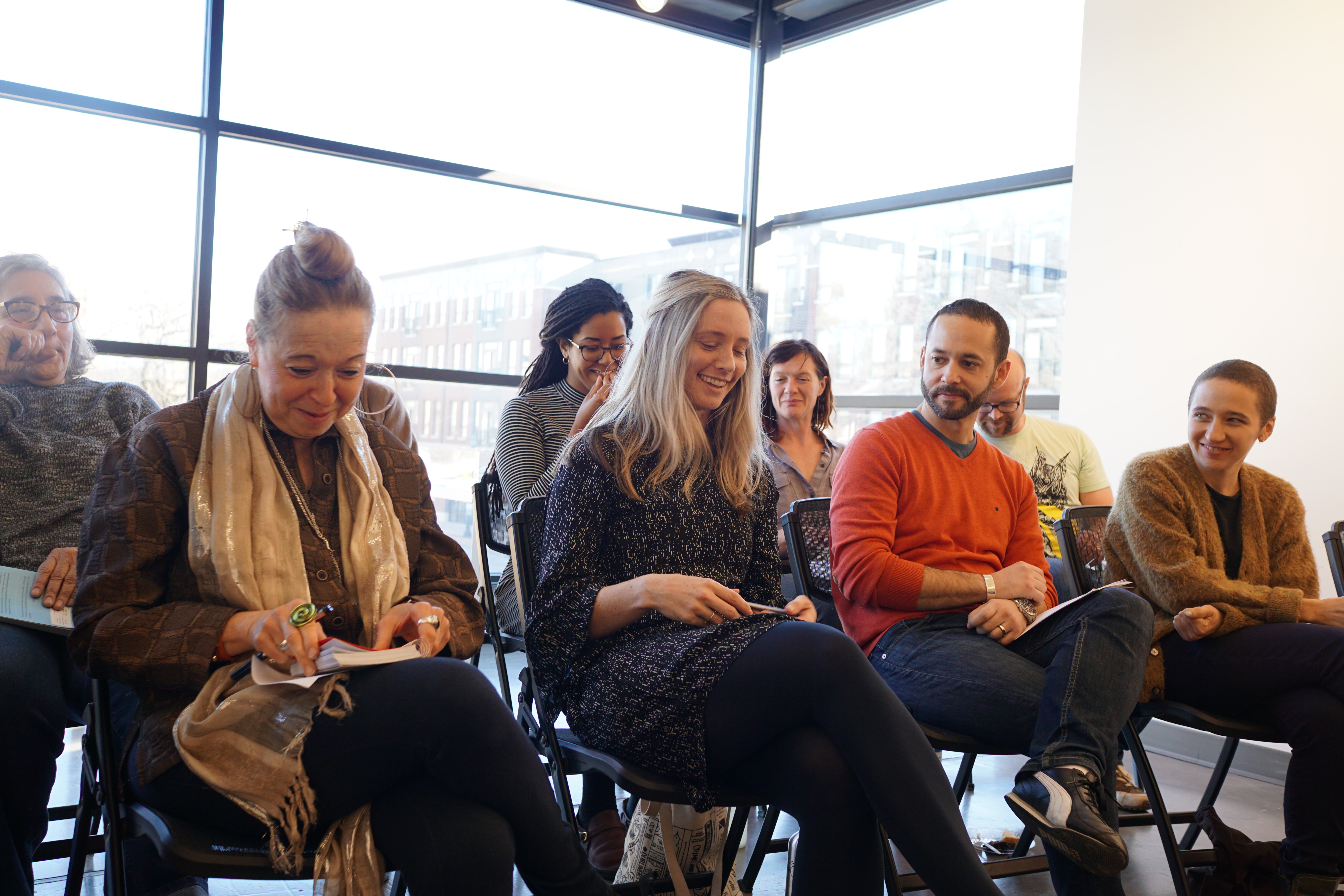 Clockwise from top

Mary Simpson: No Island is an Island, Haynes Court, 2021.

Deborah Boardman: Painter, &, Hyde Park Art Center, 2019.

People's Pamphlets, Printers Ball, 2016.

Twelve Variations, Chicago Artists Coalition, 2013.

The Heart of the Matter, Donnelley Foundation, 2015.

Society!, Evanston Art Center, 2016.

Material Assumptions, Center for Book and Paper Arts, 2014.

Human, Human, Loyala University, 2018.


Exhibitions
~ Selected Archive
Zarouhie Abdalian: Interregna
Images
Mary Simpson: No Island is an Island
Writing

,

images
Claudia Hart: The Unfolding
Writing

,

images



Cito, Longe, Tarde
Yuji Agematsu, Ally Almore, Daniel Baird, John Divola, Matt Hanner, Jenine Marsh, Alva Mooses, Julia Phillips
Writing

,

images
Let's Do It
New works by Ben Blount, Johanna Drucker, Fata Morgana Press, Krista Franklin, Brad Freeman, Audrey Niffenegger with Hannah Batsel, Melissa Potter
Writing

,

i

mages



Deborah Boardman: Painter, &
Catalog

,

images

,

press,

press

,

press
Human Human
Danielle E. Campbell, Jeff Carter, Helen Maurene Cooper, Barbara Koenen, Kathryn O'Halloran, Kirsten Leenaars, Ernesto Pujo, Protest Banner Lending Library, Mary Simpson, Pedro Velez, Rhonda Wheatley, Scott Wolniak
Writing

,
images
How Much Land
Josue Pellot & Josh Reames, Anna Kunz, Amanda William, Jessica Caponigro, Ryan Richey, Philip von Zweck, Alison Reimu, Diane Christiansen, Zoe Nelson, Deborah Handler, Erin Washington


Writing

,

images



Century Safe
Mara Baker, Stella J. Brown, Lindsey French, Becky Grajeda, Ben Grosser, Elizabeth Housewright, Nate Larson & Marni Shindelman, Nazafarin Lotfi, Christian Ortiz, John Preus, Risa Recio, Leo Selvaggio, Miller & Shellabarger, Levi Sherman, Deb Sokolow, John Tennison, Ryan Thompson, Erin Washington and Julie Weber
Writing

,

images

,

press
Heart of the Matter
Alex Bradley Cohen, Laura Davis, Howard Fonda, Roberto Jamor, Anna Kunz, Esau McGhee, Jovencio de la Paz, Josue Pelot, LJ Roberts, Jean Schuster, Alice Tippet, Polly Yates
Writing

, images
People's Pamphlets
Gareth Long, Fred Sasaki, Kyle Schlie, Judith Brotman, Ryan Richey, Johanna Drucker, Academy Records, Melissa Potter and Jillian Bruschera, Krista Franklin, Maddie Reyna, Lise Haller Baggesen, Cauleen Smith, Cathy Alva Mooses, Shaan Syed, Ernesto Pujol, Leonardo Selvaggio, Maria Gaspar, Gurl Don't Be Dumb, Phaedra Call, Michael Milano, Kelly Lloyd, Dianna Frid, Conrad Bakker, Rachel Foster, Ian Weaver, and Sonja Thomsen
Writing and images
Society!
Judith Brotman, Kirsten Leenaars, David Giordano, Adriana Kuramillo, Pedro Velez

Writing, images
Structures for Reading
Jessica Bardsley, Tony Cruz, Moyra Davey, Matthew Girson, Eva Kotátková, Sebastian Schmieg, Liz Sales, Sterling Lawrence, Gareth Long, Judith Leemann, Johana Moscoso, Sebura+Gartelmann
Writing, images,

press

,

press

,

interview
Material Assumptions
Polly Apfelbaum, Sonya Blesofsky, Nina Bovasso, Mel Bochner, Beth Campbell, Chuck Close, Ian Cooper, William Kentridge, Matt Keegan, Glenn Ligon, Jessica Stockholder and Richard Tuttle,
and new commisions by
: Deborah Boardman, Annica Cuppetelli & Cristobal Mendoza, Dan Devening, Susan Goethel Campbell, Daniel Luedtke, Kate McQuillen, Niall McClelland, Zoe Nelson, Julie Schenkelberg, Ian Schneller, Matthew Shlian and Anna Tsantir
Writing, images
Word on the Street
SUPERFLEX, Jonathan Monk, Laura Kina, Chris Dorland, Mark Dean Veca, Joel Ross (with Jason Creps), Jason Thomas Pallas, Jaclyn Jacunski, Peter Liversidge, Jeffrey T. Jones, Eric May, Steve Lambert, Nicolas Lampert, Justseeds, and Howling Mob Societ
y
Writing, images
Social Paper
Loreto Apilado and Trisha Martin, Laura Anderson Barbat, Kim Berman, Combat Paper, Nick Dubois, Fresh Press (University of Illinois), Julia Goodman, Sheroanawe Hakihiiwe, Alva Moose, Paper Road Tibet, Peace Paper, Maggie Puckett, John Risseeuw
Kiff Slemmons, The People's Library (Richmond, Women's Studio Workshop

Catalog
, images
Twelve Variations
Victoria Bradford / Ronny Quevedo, Kristina Felix / Stephanie Brooks, Johana Mosocoso, / Dianna Fri, Jessica Bardsley / Vesna Pavlovic, Kristin Nason / Scott Fortin, Rebecca Hamlin Green / Allison Reimus
Writing, images
This is Paul Halupka
Alberto Aguilar, Pamela Bannos, Viv Corringham, Adam Farcus, Regan Golden, Bill Guy, Kirsten Leenaars, Daniel Melli, Ryan Richey, Michael X. Ryan, Fred Sasaki, Allison Yasukaw, Mary Lou Zelazny

Writing

,
images,
press
The Moments Between
Rafael E. Vera, Jessica Bardsley, Jaclyn Jacunski, Kirsten Leenaars, and Sonja Thomsen
November
Noelle Allen, Mara Baker, Deb Handler
Writing, images
Outposts, Satellites and Orphan Planets
Rachel Foster
Writing, images
Nomadic Text
Joseph Grigely, Mark Holmes, Alex Valentine, Karen Reimer, Jason Pickleman, Stephanie Brooks, Steven Miglio, Rachel Foster and Rebecca Foster
Writing, images
Twos
Laura Marney, Seamus McGuinness, Paula Henderson, Paul LaMantia, Samantha Bittman, Michael Milano, Mary Lou Zalazny, John Stezaker, Andreas Schon, Thomas Roach, Eve Sussman, Atelier Van Lieshout, Rebecca Morris and Marcel Breuer
Writing, images
Untitled (Field Work)
Amanda Repo Tawio Thomson, The Franks, Conrad Bakker, Jason Lazarus, Carrie Schneider, Carey Lin, Andrew Coppersmith and Nicholas Frank
Writing, images, press
Site-Unspecific
Mara Baker, Heather Mekkelson, Adam Farcus, Rafael E. Vera, Brian Yates, Heidi Norton
Writing, images