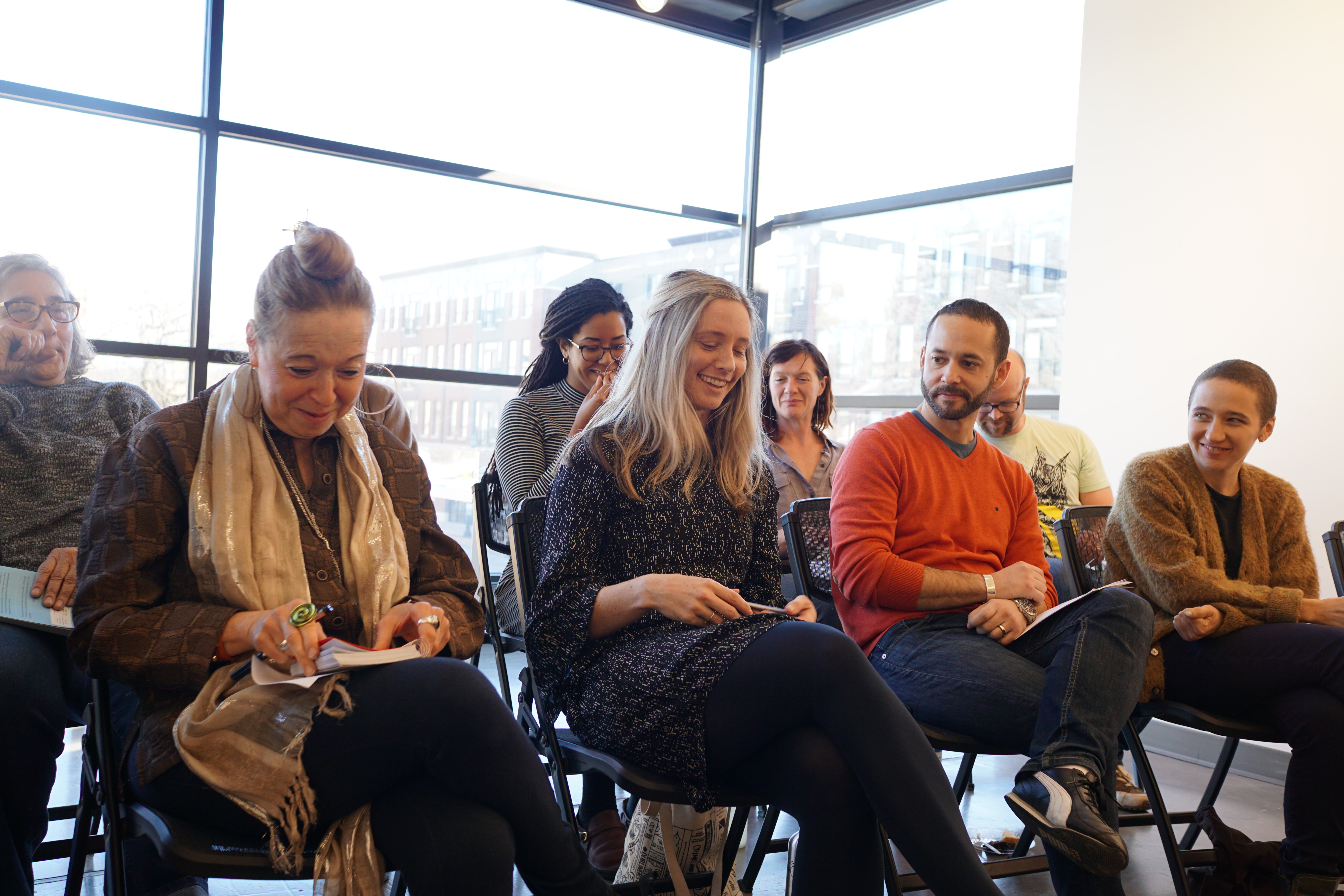 Notes, clockwise from top

1 Deborah Boardman: Painter, &, Hyde Park Art Center, 2019-19.

2 People's Pamphlets, Printers Ball, 2016.

3 Twelve Variations, Chicago Artists Coalition, 2013.

4 The Heart of the Matter, Donnelley Foundation, 2015.

5 Society!, Evanston Art Center, 2016.

5 Material Assumptions, Center for Book and Paper Arts, 2014.

5 Human, Human, Loyala University, 2018.


Let's Do It
~ Twenty-three years of book and paper
Let's Do It: Twenty-three Years of Book and Paper
The Center for Book and Paper Arts, 1994 - 2017
September 3 - October 23, 2019
Essay
Research Timeline: Artists' Books in Chicago
New Projects by:
Hannah Batsel with Audrey Niffenegger
Ben Blount
Brad Freeman and Johanna Drucker
Fata Morgana Press
Krista Franklin
Melissa HiIIiard Potter
Let's Do It
presents newly commissioned projects by artists affiliated with the Center for Book and Paper Arts--alum, of sorts--alongside artwork, photographs, and documents from the Center's archives. In siting the past alongside the present, we can form a picture of what a book and paper practice looks like today.
From artists' books to installation, both newly commissioned projects and archival materials will reveal the spectrum of practices that thrived at the Center and that were presented through exhibitions, residencies, and publishing. It was through these activities that the Center made great strides in not only the "centering" of book, paper, and print from the margins of contemporary art, but also in helping audiences better understand these practices and mediums aesthetically and historically.
Additional Contributions and artworks by:
Jeff Abell, Laura Anderson Barbata, Alex Borgen, Paul Catanese, Don Colley, Reni Gower, Tom Greensfelder, Sheroanawë Hakihiiwë, Alison Knowles, Kate McQuillen, Clifton Meador, Miller & Shellabarger, Ayanah Moor, C. Alva Mooses, Kate Morgan, Teresa Pankratz, Judith Poirier, Bruno Richard and Mark Fischer, Miriam Schaer, Vida Sacic, April Sheridan, Stacey Stern, Marilyn Sward, Amaranth Borsuk / Kate Durbin / Ian Hatcher, and others.
A special edition of the
Journal of Artists' Books
(JAB) will be published on the occasion of the exhibition. Edited by Brad Freeman, JAB46 features essays by Jessica Cochran, Brandon Graham, David Jones and Melissa Hilliard Potter. JAB46 is available for purchase in ShopColumbia or the ShopColumbia website:
http://shop.colum.edu/jab46.html
This program was presented by the Department of Exhibitions, Performance and Student Spaces and created with research support from Julia Arredondo and College Archives & Special Collections at Columbia College Chicago. This is supported by the Art & Art History exhibition Department at Columbia College Chicago and partially supported by a grant from the Illinois Arts Council Agency.